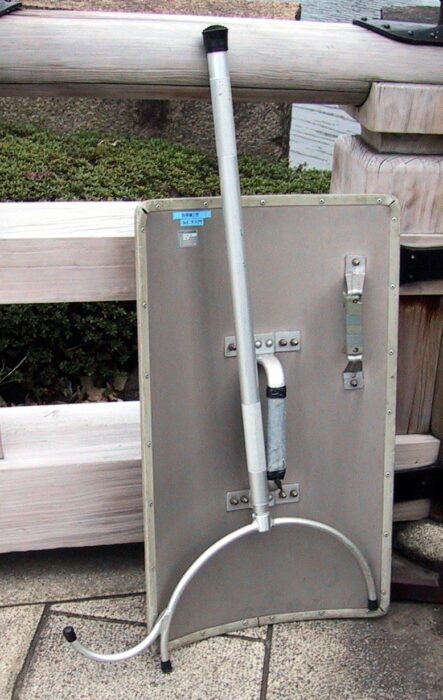 One of my YouTube vids from six years ago shows police in Maha Sarakham using a sasumata (a nonlethal man-catching staff of samurai-era design) to subdue a knife-wielding suspect at our local bus station. I posted about it at the time and there are a couple links (amazingly still live) about other incidents down at the bottom.
Weapons similar to the sasumata have a long history in many cultures. They were known as "man-catchers" in Europe and used until the 18th century, although their non-lethality may be up for some debate: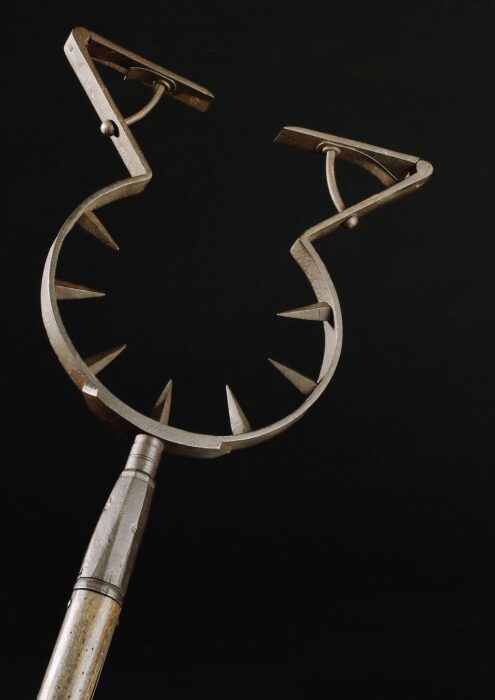 The flanges on the top of that are spring-loaded and were designed to open up after it was thrust around someone's neck!
The Chinese had a similarly-shaped traditional implement called a "monk's spade," or "Shaolin spade" that was apparently used as a burial tool (hence "spade") as well as a weapon. There are several types still sold today.
During the pandemic, a clamping man-catcher shaped like a sasumata was used in Nepal to enforce social distancing.
This inspired police in India to try their own homebrewed clamping device, which they apparently had trouble naming, eventually settling on "social distancing clamp" or a "lockdown-breaker catcher," although NPR just gave up and just called them "giant tongs."
In the latest news, an employee at a jewelry shop in Tokyo is being hailed a hero after thwarting an attempted robbery and giving chase with a sasumata after the three suspects fled. There is some cool video of it:
Two of the three suspects have already surrendered to the police.
I love how they instantly deflate when met with resistance. After their scooters are toppled and the mountain smacks it, the weapon in his hands must have looked like: