… or at least, my sister-in-law in Bangkok asked a garage who did… Amazing Thailand!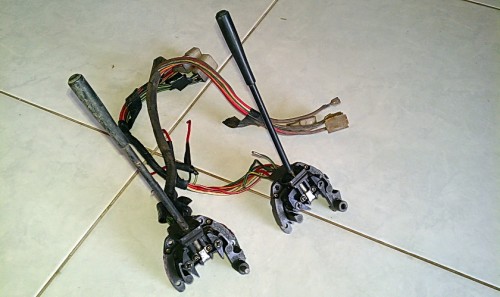 The replacement part is actually in much worse condition, over all, than the one I took off my car, but the plastic latch that holds the turn signal in place (and keeps me from having to hold the lever when turning – which annoying as hell) is intact. I'm asking my pal, Ot, from Wattana Sound, to pull the best parts from each and create  a "best-functioning" amalgamation.
It's funny that Taro had this same exact problem on his Mitsu Jeep when we were at university; the garage told us it would cost x amount to fix, but being poor students, we just used it broken until Taro bought another (used) Jeep. The difference between then and now is a huge cost differential (probably about 10:1 in favor of labor-cheap Thailand) and that while you expect an old Jeep to be a gritty driving experience, I'm aiming for a more luxurious experience in my Crown (it originally came with a refrigerator in the trunk and a pneumatic central locking system, after all).