A big storm blew through here yesterday… At one point, it was gusting as hard as I've ever seen it. The reeds at the edge of the pond were blowing sideways, and the doors of the house seemed unsure of whether to blow in or out. The babies were sleeping at the time, and stayed that way even though the thunder seemed to boom right over us and the lightning tripped the Saf-T-Cut twice. Nam was still at work, and the street in front of our house flooded a bit, but not as bad as last time.
The storm blew over and the sun came out. The babies eventually woke up and Max must have remembered the floods from last year since he asked me to go get him a fish. Neither the pond nor the storm drains were overflowing this time, so there weren't any fish.
I had to run errands on the other side of town and saw that the storm had blown down a huge highway sign right in front of our neighborhood. I hope nobody got hurt. The rear entrance was flooded again, like last time, and for a while it was a bit too deep to drive a car or motorcycle through, although pickups were making it through just fine.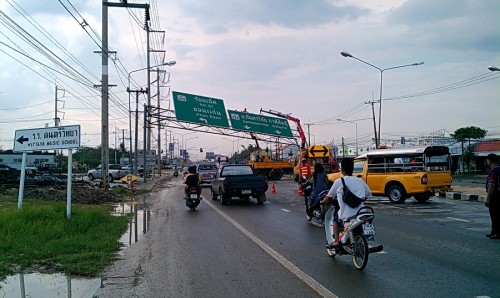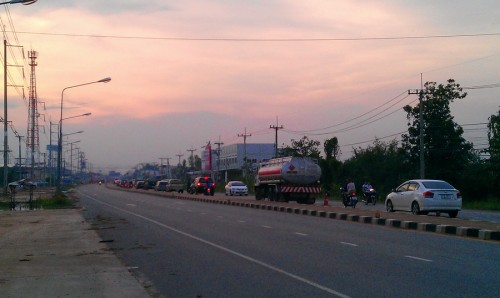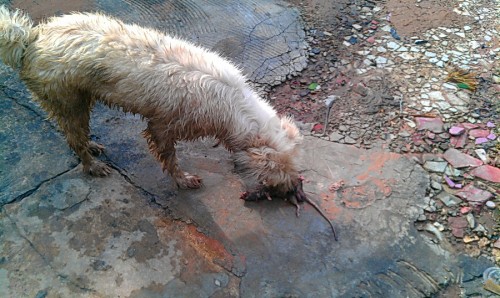 It rained again hard today, which made us scramble around to get things done (Nam's car is in Khon Kaen getting resprayed so we're doing it all in the Crown and with the help of my <150cc bike fleet), but it's all good now.