So far today, I've had to break into my own house three times because each time I left I've forgotten my own keys inside, and then later, forgotten to ask my wife for hers.
On the plus side, both my morning and afternoon classes at Mahasarakham University (Nam's uni, where I teach on Mondays part time) were thrilled to have class cancelled due to a blackout caused by a storm that knocked down power lines last night – the ironic thing is that unpowered classrooms are kinda what I'm used to working for a public university and all.
Here's my proof, in the form of a photo documenting last month's sweeping upgrades from 19th century technology to 20th century technology at my university: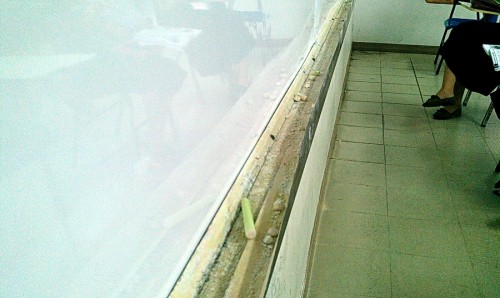 Yes, our rush to embrace technology hasn't exactly been, well, rushed. Indeed, I installed the first wireless LAN at Rajabhat Maha Sarakham when I came over in late 2007, which was an ancient Buffalo unit I'd been using for around seven years in Japan already.