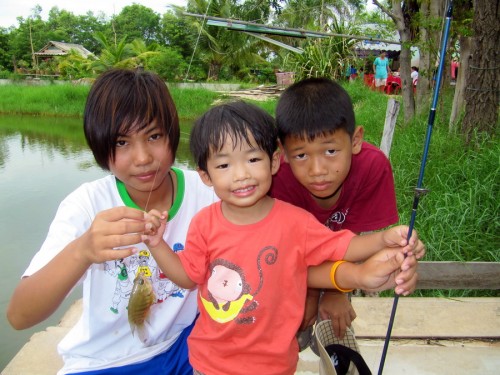 A couple weeks ago, we went to my coworker and good friend's father-in-law's place for his new house celebration. He'd built a new house on top of the foundations of an older one at his 15 rai (1 rai = 0.4 acres) property five minutes walk from our home. There are several fish ponds on the site, stocked with all kinds of fish including tilapia, catfish, snakehead, etc.
Max was so excited about going fishing for real, he couldn't sleep the night before. Until then, we'd been practicing for safety with hookless tackle (a rubber door stopper tied to the line) at the ponds in our neighborhood, but Max was ready for the real deal. When morning rolled around, we went out into our garden and dug up worms for bait, which both Max and Mina couldn't believe just lived in the ground around our house…
Just before noon, we headed over to my friend's FIL's place and found that Max was unwilling to eat; he was completely enthralled with the prospect of actually fishing, so I pulled a couple of bass rods from the back of our car and set up with light rigs. Then:
This was actually his second fish, perhaps a bleeker, related to carp in any case. We were fishing the shallows in 1 meter deep water with fallen submerged trees everywhere, so my sliding sinker rig did a perfect job. The total for the day was five small fish between Max and his friends, and typically, they all got bored after pulling in their own fish. Max was scared to actually touch the fish, just as I remember being, so it was a good learning experience for everybody.
On the deep side of the pond we were fishing they apparently catch 7-8 kilogram catfish of various species (giant Mekong cats included!) on a regular basis; I saw some they pulled that morning in the 5kg range waiting to be prepared for eating, so I don't doubt it. I was trying to keep the kids from being traumatized by a leviathan, so we stayed in the shallows!