After owning a 1971 MS60 for a few years now, I can tell you one thing: It's been pretty damn near impossible to find spare parts for it. After spending countless hours trying to find parts overseas on the internet (because there were almost none advertised in Thailand even last year) that I could afford to have shipped here, we lucked out. Parts sellers started advertising in Thai forums.
So to start with, I've ended up with a shipment sold as a set: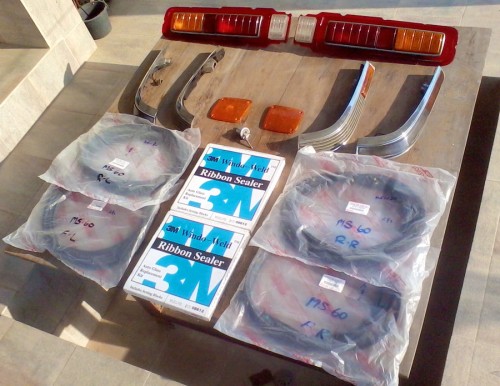 My car is not missing any of these parts, but these are in better condition(the guy who sold me the car aptly described it as "faded glory"). Some of them, like the taillight lenses, will be dissected and combined with my existing ones to make better parts.
Most important to function of the car is the full set of weather seals for the door. I'd heard rumors that new rubber was still being made in Thailand for virtually every Japanese car ever produced. Now I have proof. Perhaps even more important than the parts themselves were the labels on the bags containing parts numbers and bar codes, with which I was able to trace the manufacturer. Do you need rubber seals for an old/rare JDM car? I can probably get them now (as opposed to all of the Toyota dealers and parts specialists I talked to, who most decidedly cannot).
So what's my purpose here? Why am I searching out parts for my old Crown, of the only generation of this make that was a complete and utter market failure (while being the first Toyota Crown – earlier models were Toyopet)? Let's just say I'm trying to restore some glory…
UPDATE: This is what my MS-60 Kujira Crown looks like now: http://cosmicbuddha.com/2012/03/the-toyota-kujira-crown-reborn/