Max is going to stay with my sis in Washington for a couple months. He'll be there until the end of the last term of 2nd grade there to see what it's like. We'll see what happens from there, but anything is possible. We can uproot and move within a couple years, if that feels like the right thing to do.
We aren't really keen on splitting up the family in different places while the kids are so young. But Max wants to go, and hasn't wavered at all, even while playing with Mina for the last time in a while earlier tonight.
Meanwhile, my days are filled with keeping young kids happy and learning English for our summer project. Nam has been rushing to finish classes early (her uni's term is different from mine or the kids' school; we are on summer break) in order to take Max over and scope out Washington state. It's been stressful.
Money is also tight, and we decided to gamble on a newer Chinese airline that has a modern fleet and is still unknown and variably rated online: Xiamen Air. Everything seemed to be going well, but the tickets were cheap and maybe there's a reason for that.
First, it seems that Xiamen Airport (as opposed to other international airports in China) may require Thai nationals to get a transit visa even for a transit of less than 24 hours (staying inside the airport). However, the information on this is conflicting, and I had only read reports that it was actually no problem when bought the tickets. Now, on the eve of departure, we have read more reports stating the opposite… Nam will have to go all the way to BKK with Max tomorrow and ask the counter staff, since their website is useless, as is their service hotline.
Actually, the website is so useless, we can't even check in online: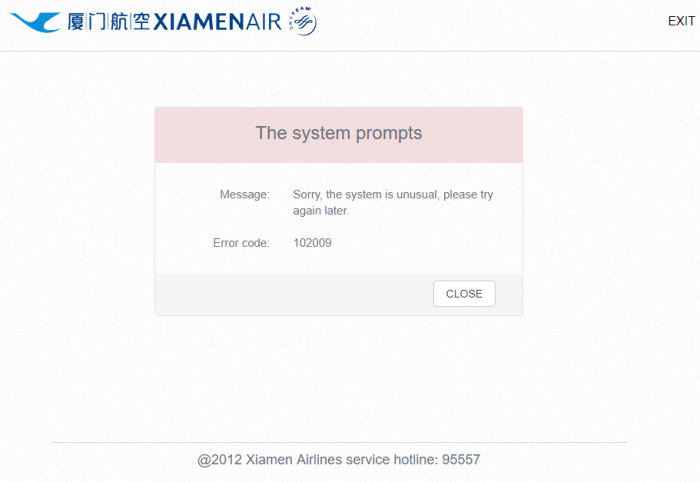 So, they are leaving our house from tomorrow morning on a great adventure! Mina and I will be guarding the home front and missing them. Nam will be gone for a few weeks, and Max for at least a couple months. We miss you already, boy!
UPDATE: Xiamen Air and inconsistent Chinese visa rules for Thai nationals completely screwed us. While most info on the internet, even from some official-ish sites, claim that Thais can get through Xiamen Airport on transit without a visa, according to the Chinese embassy in Thailand as well as Xiamen Air head office in China said that Nam would not be allowed on the flight at Suvarnabhumi without a ~$140 transit visa or tourist visa (which cost the same, with the transit visa offering no benefits whatsoever, so you might as well get a tourist visa).
While I should have looked this up more thoroughly before buying the tickets, we were just too busy. It's hard to believe that the travel agency (SmartFares) or the airline itself (Xiamen Airlines) collect your passport information yet allow many Thai nationals fall into this trap (again, applicable to only some of the airports in China) every month, according to the helpful girl on their help line. It was not nice finding this out on their eve of departure, but it was better than them getting turned back at the airline counter at BKK I suppose. There are some reports that paying bribes can help you get out of this ridiculous visa conundrum, sometimes facilitated by the airline staff in China but usually taking several hours and entailing lengthy questioning and missing your original transit flight. We ended up having to book new flights (not through SmartFares ever again, just on principle), this time through Hong Kong Air, which was completely fine because according to Nam, both their airplanes and HK airport are very nice, and because Thais DON'T NEED A VISA FOR SHORT TRANSIT THROUGH HONG KONG AIRPORT, UNLIKE XIAMEN AIRPORT AND OTHERS.
The moral of this story is: BEWARE OF XIAMEN AIR (it rhymes!), BEWARE OF SMARTFARES, BEWARE OF STUPID CHINESE VISA RULES. They are acting in concert to squeeze you for every last dollar.
That is all.