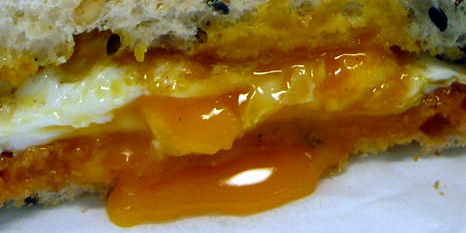 Mina brought a hamburger bun stuffed with a fried duck egg over to my desk and said, "try some." I was just waking up, so I told her I needed a minute. In that minute, the sandwich disappeared and I jokingly asked Mina why she didn't save me any.
"Cuz it was sooo gooood."
I fried up one of the duck eggs Nam's sister gave us from her egg factory (she makes salted duck eggs out on her resort in the country) and threw it in a toasted burger bun with a slice of processed cheddar… UMAMI. BOMB.
It was the best, messiest, umamiest egg sandwich, ever.