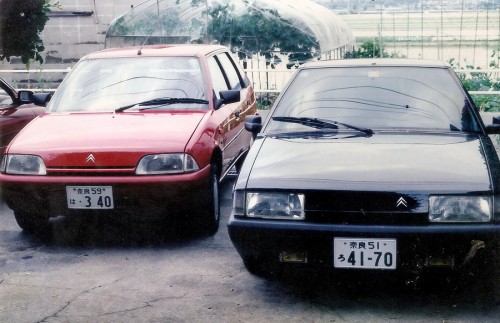 I've been meaning to write about these cars for a long time. I came across this photo, from around 1999, when going through old albums. I put it aside and it's been collecting dust on my PC desk since then.
Anyway, about the cars: Yuko-sensei gave T the red Citroen AX and replaced it with a Renault Twingo (She probably still has a thing for French cars – being a doctor, she's one of the few in Japan able to keep up with repair bills for them.). This was a good small car with manual transmission, and didn't break down as often as the BX. I used to see a few of these around Mahasarakham, but not for the past couple years.
A teacher who T knew gave me the black Citroen BX with the strange condition that I service it at his friend's garage. I honored that promise for a while, but got sick of the guy overcharging me for LHM used in the hydropneumatic suspension system. This car was used on several legendary road trips to Tsukuba, Tokyo, and all around Kansai.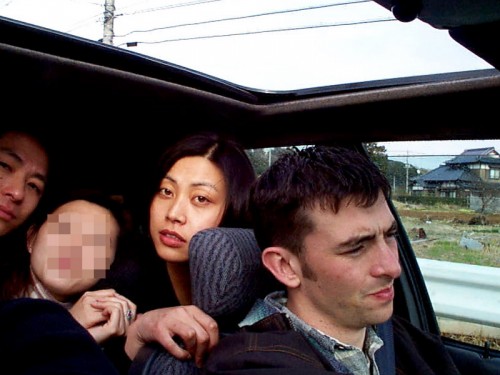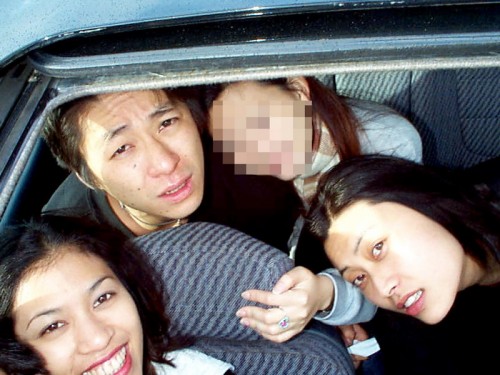 I also traded it for one day with T's cousin for a Mitsubishi Delica when we needed a party bus. Owning this car was a love/hate kind of thing.
There aren't many people who get to own cars designed by Marcello Gandini (the designer of the Lamborghini Countach, the Lancer Stratos and the original BMW 5-series) with oléopneumatique suspension to adjust the ride of their car. This system served a couple purposes: It could be used to slam the car to the ground so it couldn't be towed away when parked illegally on the street, and it was a fucking spectacle to behold the car slowly rising and falling in any given parking lot at any given drunken time.
Alas, the car was a sensitive and fragile little crybaby, and not suited to my violent driving style (although it was spared handbrake turns because the parking brake was attached to the front brakes!!). Indeed, I broke the gears when screwing around on the racing overpass in Tenri one hot evening, and barely made it back to our garage in Horyuji to get it looked at… Kataoka-san, our mechanic, mentor, and adviser for all things auto-related, checked it out and pronounced it dead on the spot.
I have to admit, thanks to the otherworldly suspension characteristics, the Citroen BX had the smoothest ride of any car I've ever known, especially in the back seats. And the home cabinet speakers I carried around in the trunk coupled with mad interior cabin acoustics made for awesome tunes. But due to something breaking or temporarily ceasing to function almost every week, along with assurances from Parisian friends that this was quite normal when owning Citroens, I would never feel the desire to own a French car ever again.