My friend Ben just bought a used 2011 Honda CBR250R w/ABS in Pattaya and brought it back to Sarakham. I helped him out a little with the details of the transaction and choice of bike, so of course, I got to try it out. Perhaps today wasn't the best day since it was drizzling and quite windy out on the highway, but that did not deter us.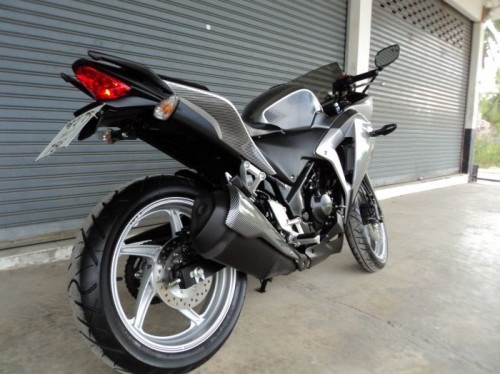 The bike was lighter and more refined than I expected – I would say it's more tame than beast. The single-cylinder engine is very smooth and steady, and the bike is very quiet with the stock exhaust (even if it is wrapped with a faux carbon fiber sticker – which according to the internet, grants about 3 extra hp). In my mind, the CBR 150 is more fun at lower speeds, but the 250 is great for cruising on the highway (and probably even more fun when the wind isn't kicking grit into your face at high speed).
Until this point, I had been riding the CBR around town and Ben was following on my scooter. When we stopped, Ben said he wanted he wanted to ride bitch to "see how girls felt," so he got on the back and I pretended to be a twenty-something French guy on a glorious circuit around the Maha Sarakham bypass. Getting into the role of a racer-playboy, I recommended embedding a switch-activated vibrator in the rear seat cushion for increased high-speed thrills. For his part as a scared young Thai girl, Ben kept saying, "slow down, Ajarn, slow down!" (I was actually riding very slowly since I'm no longer invincibly young).
It was a lot of fun.