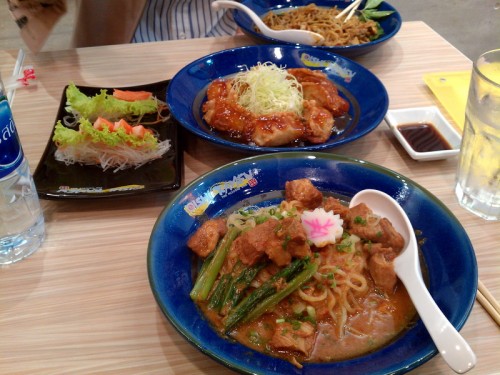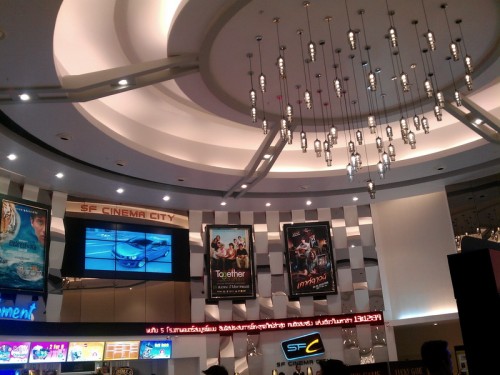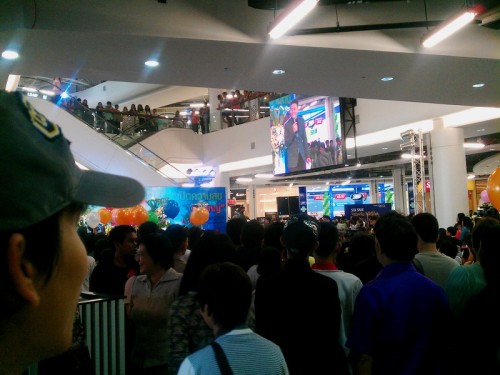 ——–
Three years ago, when we moved into this house, many people doubted my choice of location. I simply told them that it would be a few years until this became the new center of Maha Sarakham. Our house was one of the first up around here and, back then, was surrounded by nothing. Now there are hundreds of houses that have sprung up all around us, a new Big C supercenter, dozens of new stores and restaurants, and as of today, a huge new shopping mall.
The oldest shopping center/minimall in Mahasarakham is Sermthai plaza, located next to the canal in the old downtown district – this year is its 55th year of operation. It was built by a very wealthy family who were some of the original settlers here, when it was literally a jungle. I knew when we bought this house that the land originally belonged to this family. It made sense that if they were going to invest in big projects, the area around our house was the logical place to do it. Sure, some swampy land had to be filled in, but landfill is cheap for rich people who can shuffle dirt from worthless pieces of land to valuable ones. So I stand vindicated today, because they have just opened the largest mall in a 60 kilometer radius just across the street from the back entrance to my neighborhood – a five or ten minute walk. Hopefully, this further increases the land value of this area. Thank you, rich people, for sharing the wealth with us peasants – and thank you for making a decent ramen shop ten minutes from my house.
Walking around the new Sermthai Complex on opening day, two things really stand out:
Maha Sarakham really is the definition of a university town. I have heard there are ten thousand teachers at the various schools and universities here, and I'm guessing the number of students may be ten times that. Many businesses really attract a crowd by offering student memberships and discounts, and many businesses just close during long holiday periods – two whole months during the summer break – because the population of the city is seemingly cut by half as students go back home. For certain businesses that depend on students for income, the long breaks simply are not sustainable. Dormitory room rates near the universities discount their rates by half during these periods. So this new mall will hopefully be a great place to visit during the long school breaks.
Also, people watching at the new Sermthai today was just a study in contrast – I've never seen so many low-so people in such a hi-so place (I count myself as an honorary low-so person); like Beverly Hillbillies on some grand scale, set in SE Asia. Awesome.