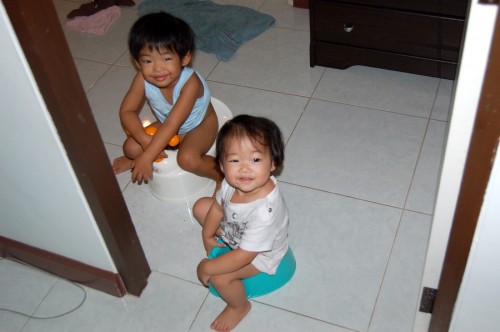 We didn't force toilet training on Max, and one day he just decided that he was tired of using diapers. From then on, we only put him in one at night and on long trips. Mina, the Ultimate Emulator, also sits on the training potty, usually just for fun and not actually depositing anything.
Mina is developing so fast, it's scary. Whereas Max built up a vocabulary a few words at a time, Mina copies everything anyone says to her. She can't make most of the sounds well, but the rhythm is there. And she can understand most anything you would say to a small kid. The other day, Nam told her to clean up a room when she and her brother and another kid were done playing, and she dutifully put away all the toys in sight (a lot).
One of the scary things she can do is get out of her car seat restraints – I saw this just last night, after she had been strapped down fairly securely.