Last year, I wrote an e-mail to my Santa Claus impersonating buddy in Japan (impossible to find a link for you, dude – there are at least 7 "Santa Daves" on Facebook and even a "Big Wave Santa") telling him that they had brought a Tabasco-like wasabi sauce to market: Wasasco. He recently tried to find some, but couldn't. I remembered that I'd seen something similar at Big-C, so went to check it out.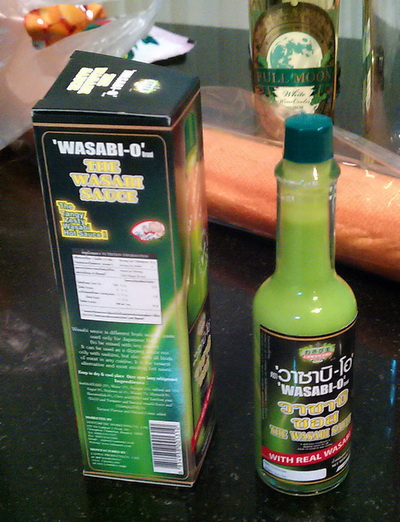 OK, the most shocking thing about this product is that it is not only edible, it is FUCKING DELICIOUS! Serious noms. It's like the perfect dip for potato chips, creamy and atomic. I could see doing capfuls of this for losers of drinking games.
The thing is, Big-C had a whole shelf of these bottles on clearance, so I hope the Wasabi-O company isn't going under or something. Time to go stock up, because the last favorite hot sauce I had here, Wolf, which tasted kind of like Cholula and Tapatio mixed together, just disappeared one day. Although I'd stocked up on half a dozen bottles of that, it didn't last a year. I'm going to Big-C to buy up their stock, I guess.
——————–
It occurs to me that McDonalds is possibly vindicated from Adam's online criticism from a decade ago.