Kristen attempts to be ambitious...lol alliteration!
Today I moved out of my apartment in San Diego. I haven't felt any sort of sadness or nostalgia about it, really. Maybe it's because I'm temporarily living with the same people but in the neighboring building, lol. Or maybe it's because I just assume that I'm going to see them soon. Poor Trina, we ended up stuffing so much into Irvin's future room. We have at 3 beds, 3 desks and a whole lotta other stuff in there! I even had to put the bike in the bathroom, lol. I couldn't even get the whole room in the picture so there is even more stuff on the sides and in the closet to the left (not the closet you see here).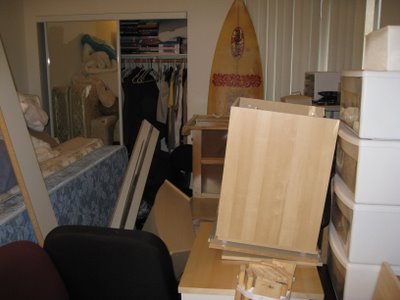 Anyways, thankfully I had Adam and Kevin help me move the big furniture pieces or else I would have just cried. To thank them, I helped make them dinner!
Adam and I have been talking about steamed clams all week. So finally tonight, we made them! They didn't come out as amazing as I hoped for, but they weren't bad for the first time winging it without a real recipe.
Oil
Butter
Garlic
Shallots
Green Onions
Celery
White Wine (cooking wine)
Clams
Salt (ended up being too much)
Sugar (to balance out the salt)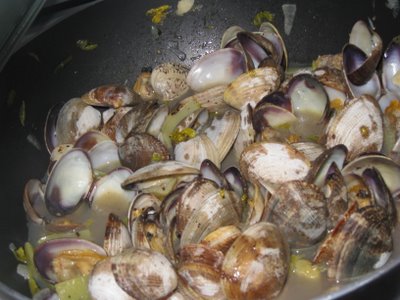 Joanna and Robert made DELICIOUS salmon, and now I know how to cook fish!
Garlic Salt
Pepper
Garlic
Hot Oil
Lemon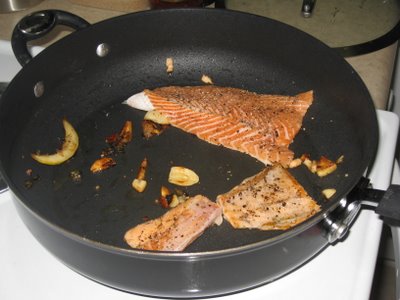 Tasted SO GOOD! Then Trina boiled some broccoli for us. Sooo gourmet for us college students, haha. I'm getting fat I think, though (Shuttup, I know I'm skinny but I'm gaining chub) and I will try to start doing exercise again. No muffins for me!
Anyways, time to get some sleep. Tomorrow will be the last day to move and clean!