Bringing Back Boracay
After all the confusion, our Boracay trip was set to go. It's so hard to tell people how it was in just a sentence or two. It was intense, stressful, beautiful, peaceful, adventurous and fun. I firmly believe that the ocean is good for the soul. Despite having the beach be running along a string of bars, it was good for the soul none-the-less.
Boracay is very beautiful... it definitely has that picturesque view of white sand beaches and clear blue water. Here is a photo I got off Google since I can't seem to upload any photos to Facebook lately: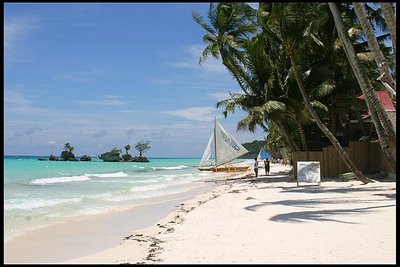 It's very tourist-catered, so on the downside, I didn't get to see much of Boracay besides the beach. I usually like going inland and seeing what else there is besides that they show to tourists, but we didn't have time.
It's amazing how I'm getting used to having to get used to short routines. Or maybe it's because I'm yearning for some sort of routine, so I make one no matter where I am or for how long. I was there for barely 5 days and I had a routine:
8AM Morning Swim:
I woke up to either an alarm ("Put your hands up for Detroit...I love the city!"), or someone scaring me awake. Feeling groggy and unattractive, I would drag myself to the beach for a jump start. I don't know what it is about the ocean...strike that, I do know what I love about the ocean: I love how it lulls you into relaxation when you're floating on your back. I love how the sea salt somehow makes your skin feel nourished. I love how the sun rays stream through the water and waves when you dive under. I honestly wish I were a mermaid!
Anyways, a quick skip and a dive later...
9AM Shower and Breakfast:
The hotel was kind enough to give us complimentary rooms...but how funny is it that the room with 4 girls in it has a malfunctioning shower? Doing so many shoots on location requires that I shower at least 4 times a day, no joke. Everyone thanks me, okay? No but seriously, thankfully we had 2 other showers between us all, so the worst it gets is that my stuff is scattered between three rooms.
Breakfast was nice to have. I'm really enjoying even having a routine of buttered/jellied toast and milk coffee.
10AM Hair and Makeup:
I helped create the itinerary for the trip so I knew that we had to get into hair and makeup right away. There was some confusion prior to the trip so I had very limited wardrobe to work with. A lot of the stuff I prepared from wardrobe (Because I also work in the wardrobe department) did not make its way to Boracay, so some creativity was required. Thankfully, Sally, our makeup artist is completely amazing, and the shoots would not have been possible without her. We would do one or two shoots a day for each of the 4 girls that went and with hair and makeup taking up at least one hour for each girl, you can do the math and figure out how long it took for us to get everything done.
After shooting all day (and sometimes even into the late night), we would either go to bed, or go out to the bars. We went out for like, 2 of the nights we were there, always to Hey Jude, a very chill bar that had the best music. DJ Surf was a great mixer and me and Tascha put it to the test with our inclination to dance.
We also went to another place called Cocomanga's, which has this thing where if you do this 15-shot series of drinks, you win a free Tshirt that says something about the feat and you put your name up on their wall. The music was great and it had a lot of people, but apparently it's more of a local place to go to since it's off the main part of the beach. I even heard that it's a pretty dangerous club to be in, but I think as long as you don't give a reason for someone to bother you everything should be fine.
Also, can you believe that I met people from California while I was there? Not only did I meet Americans, but I met Californians...and not just Californians, but people who knew people I knew! We had mutual friends! Go figure, it truly is a small world.
However, of course something had to happen amidst paradise: someone stole my purse. I KNOW. No joke, while we were night swimming, someone came by and took my purse from under the clothes, which were under a chair. Seriously, that person hit the jackpot. I had my wallet, ID (but not passport, thank god), credit cards, cash card, my THIRD phone, Dwight's phone, my antibiotics, AND MY IPOD. x_X I just wanted to cry. Okay, I just can't dwell on it any longer so I'm going to move on.
On the second to last day we went island hopping with a boat but we were on the boat longer than we were on the island. I wish I could show photos and footage from my trips but the internet connection is limited here that it's just been impossible lately.
Anyways, the most exciting part was that I got to direct my first photoshoot with Tascha and Tabitha as my models. It was a great feeling. I very much enjoy being behind the camera. My concept was a bar scene brawl...pretty cool looking if you ask me! We got so lucky with the lighting thanks to Dwight. Now I'm working on editing the behind-the-scenes to it so that we can get a good video for FTV.
Okay, time for me to finish editing, so look forward to the next update!