It turns out that there are a lot of camp sites available in the Fort Ross area of the California coastline, and the beginning of September during the mid-week is an ideal time to get a place to yourself. We returned to a place that had yielded some pretty good results on a previous trip at Stillwater Cove, in Sonoma:
As with most of our trips, we tried to find new spots that people were less likely to access, as we found out that one cove over from the main beaches was much more productive than the well-picked-over waters closer to the road-side parking. Recently, we've been seeing more and more people who don't seem to be very comfortable in the water diving for the snails. Luckily for us, we are a bit more comfortable scrambling down areas that are not as accessible, going for longer swims and able to dive a bit deeper.
Here's a picture of the cliff we went over–this is not easy to scramble down so we usually end up chucking our gear over the edge first, though we're still wearing 20 pounds of weight and 7mm wetsuits: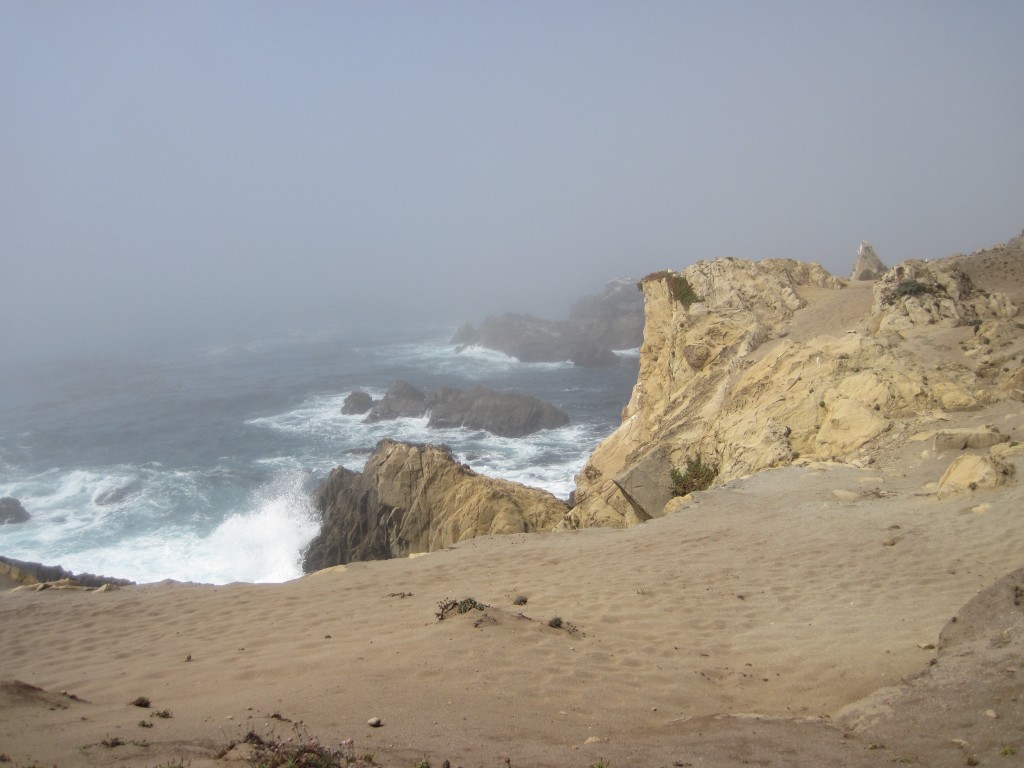 This is what it looks like going down. The rock was rotten sandstone, and it was not easy to climb down, and thus there should be plenty of abalone…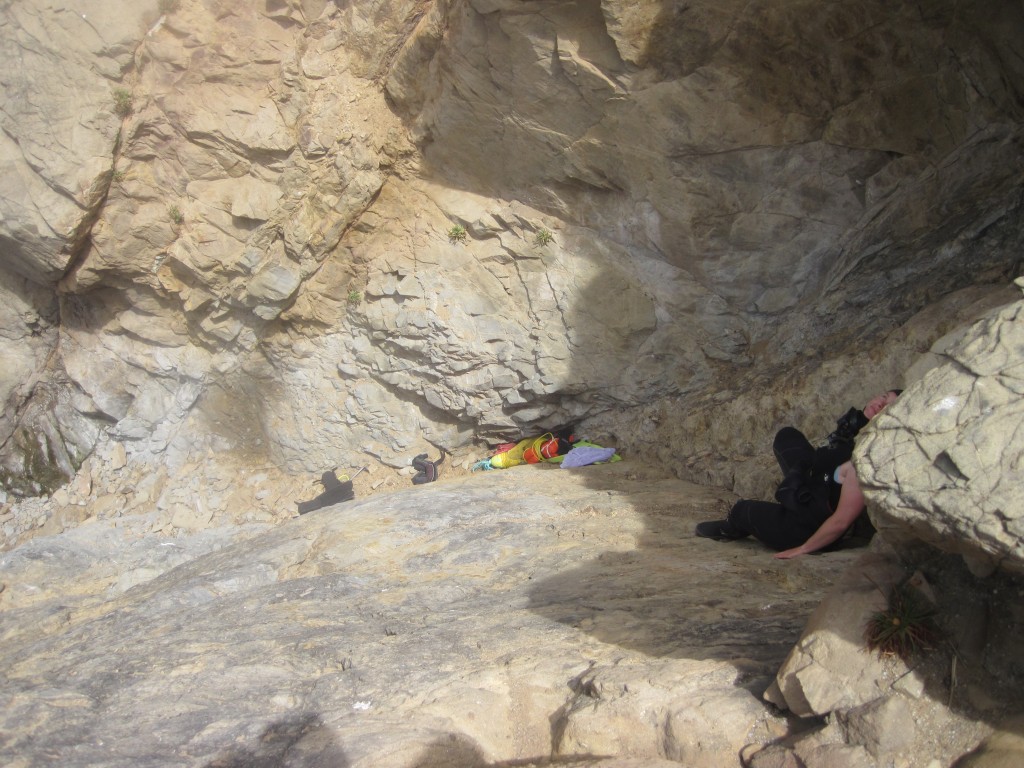 Here's a video of the entry into the water:

In this particular spot was apparently perfect for prickly sea urchins (which we were very careful to avoid, but if you like uni this is the spot!) and though we saw two abalone, they were both nowhere near legal size and crammed into deep, well-concealed crevices. On another trip, we had discovered that the channel between a group of rocks jutting out of the ocean and point on land was super-productive, however it is only safe to go in on the calmest of days. This day, though there were no huge waves, was not doable, so we had to dive the spot that everyone else goes to pick their abalone. Notice that this descent is easier, but still requires a rope to get down to the bottom when in full diving gear:

In order to find decent sized abalone, not just ones that were barely of legal size, we swam further out into areas where the surge was stronger and where the water was deeper. Luckily, this spot was nice and sunny, so we saw things like this (usually, it is cold and foggy which makes you appreciate the warm and sunny days):
Here's an abalone, in situ: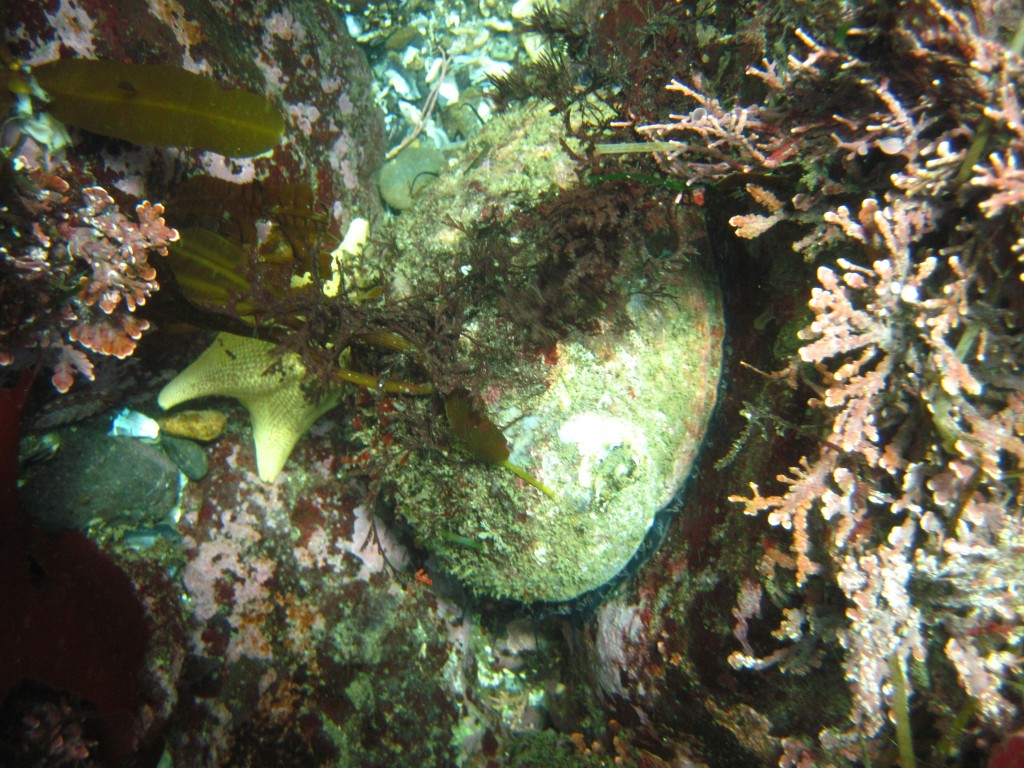 The Tyrannosaurus Rex of echinoderms, the sultan of sea stars: the mighty sunflower star
Abalone and a giant green anemone: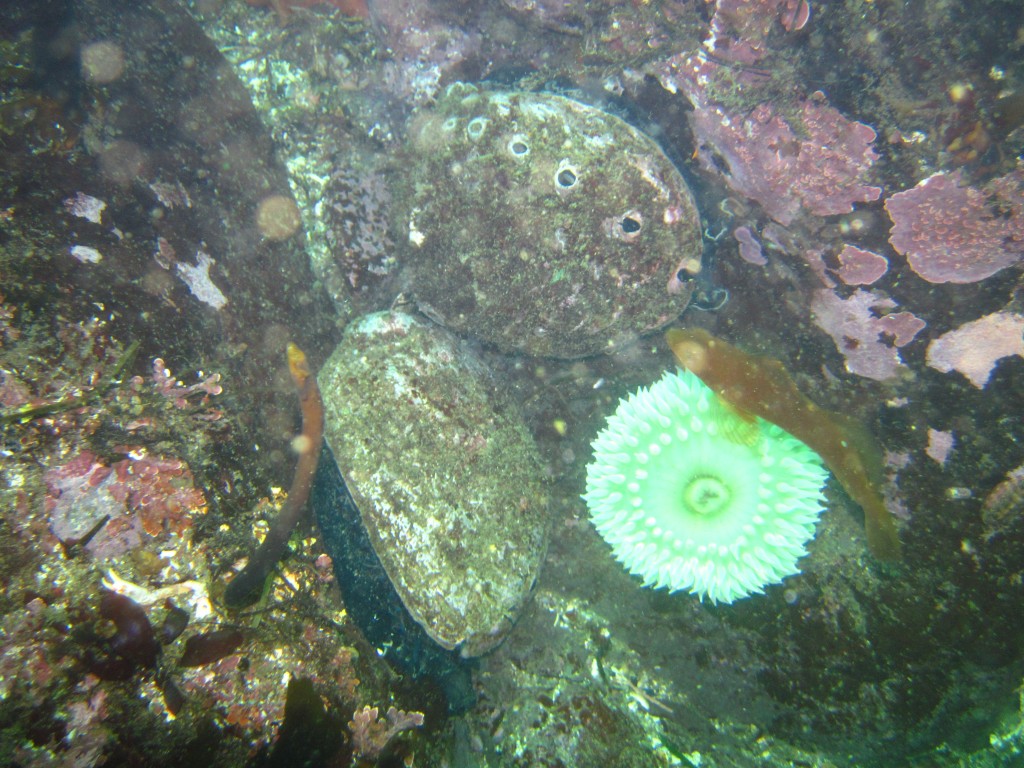 Smaller, orange anemones: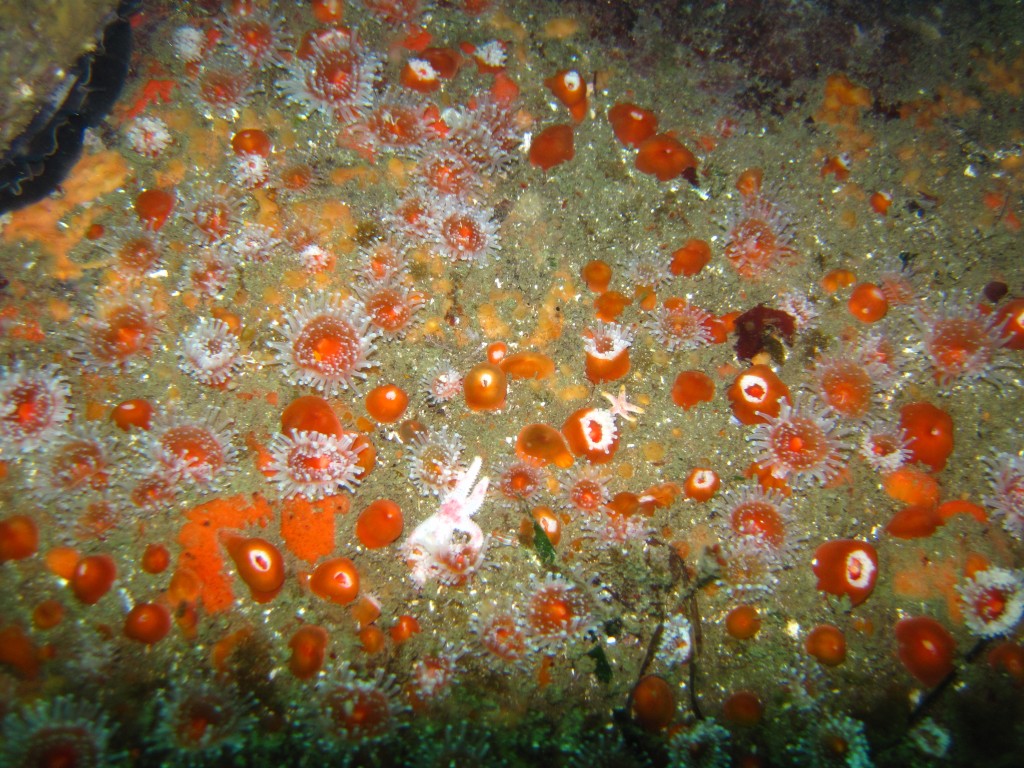 And we had a visitor as well: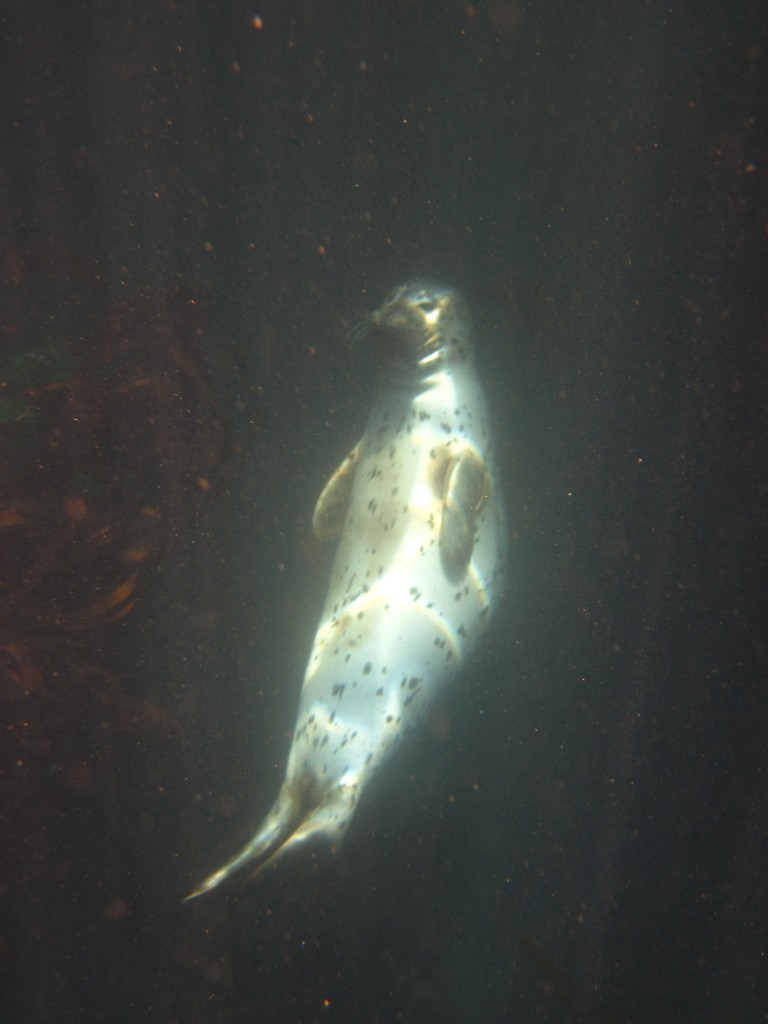 Once that was said and done, we found a spot about 30 feet down under a submarine ledge with a number of decent sized abalone: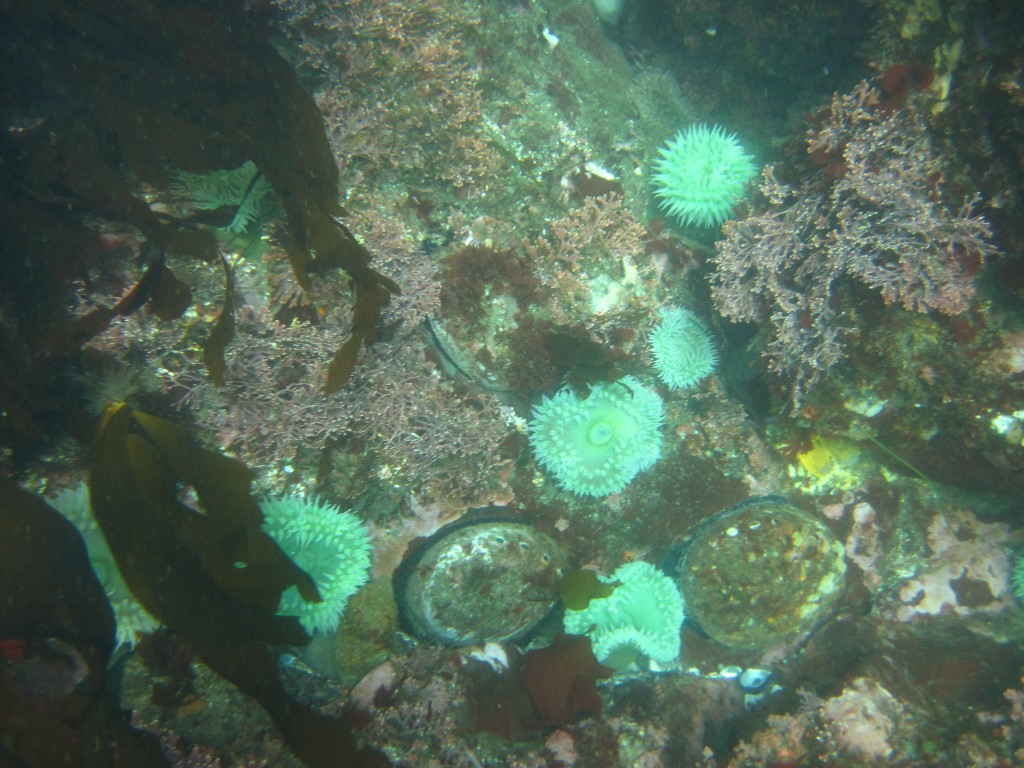 It took me a while to select three to pull, as thirty feet is about as far as I can comfortably and safely dive right now. This is an improvement of the first time I went, when going down 15 feet was really challenging. Here's a shot of me at the bottom. The yellow line is attached to my ab bar and gauge one one side, with my MacGuyver'd float (made out of two children's PFD's, rope, zip ties and a carabiner) 30 something feet at the other side: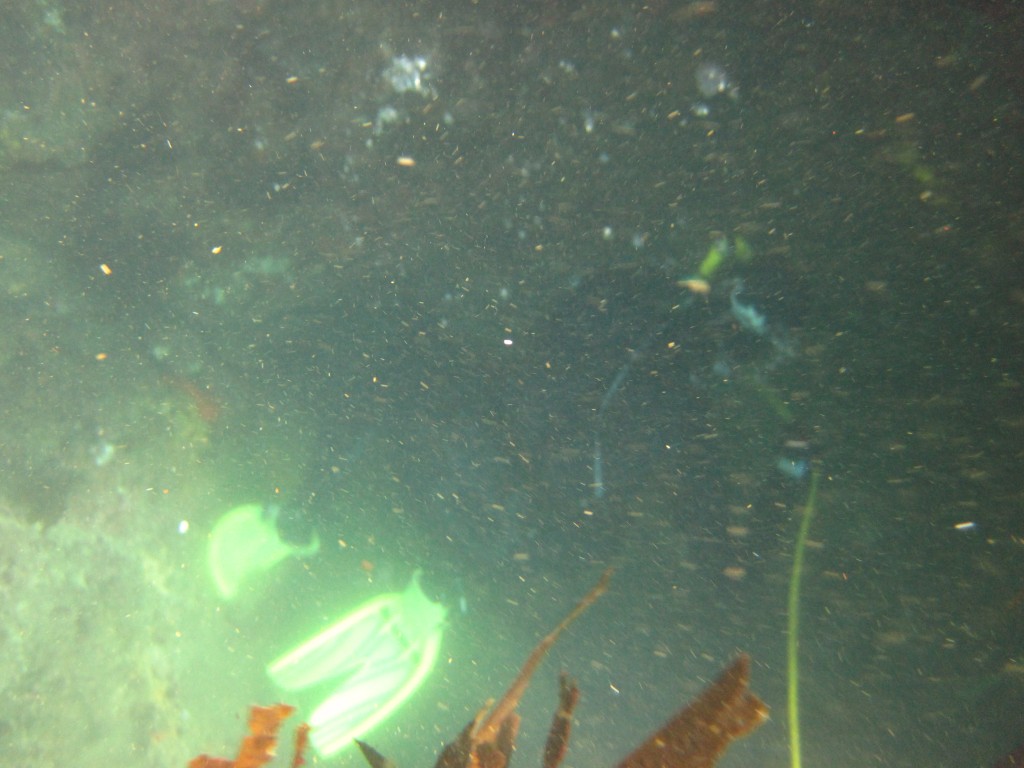 …and at the surface, putting one away: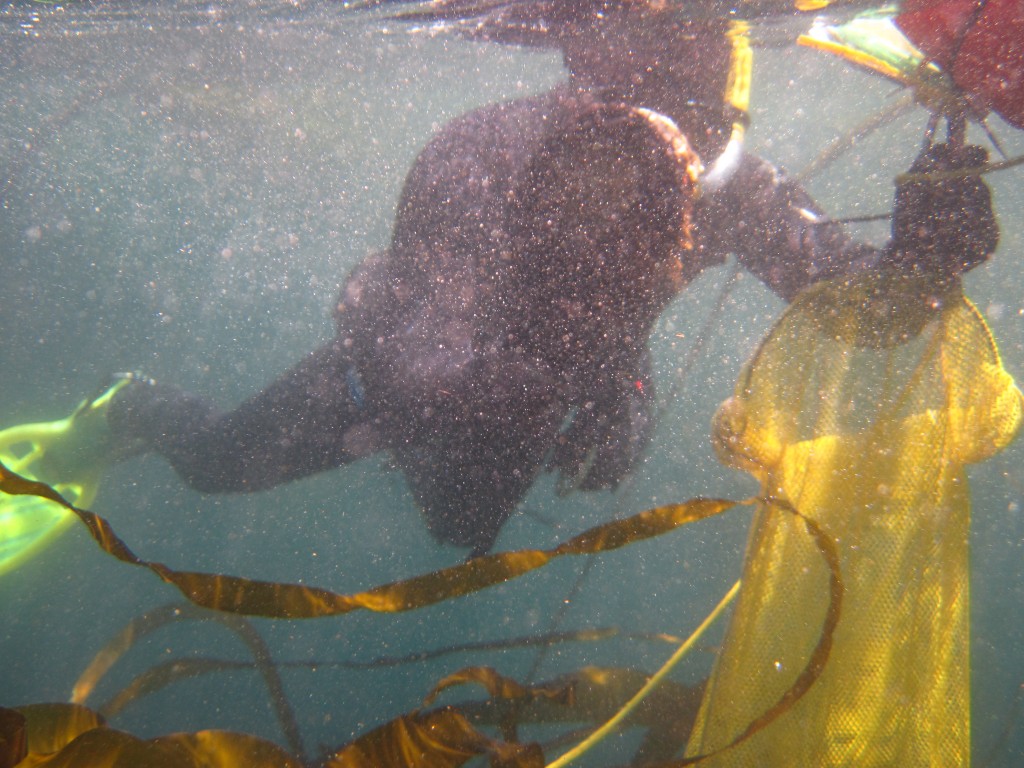 Here's a shot on land. You have to tag the abalone right away once you get on your boat or come onto land, otherwise you potentially face a stiff charge: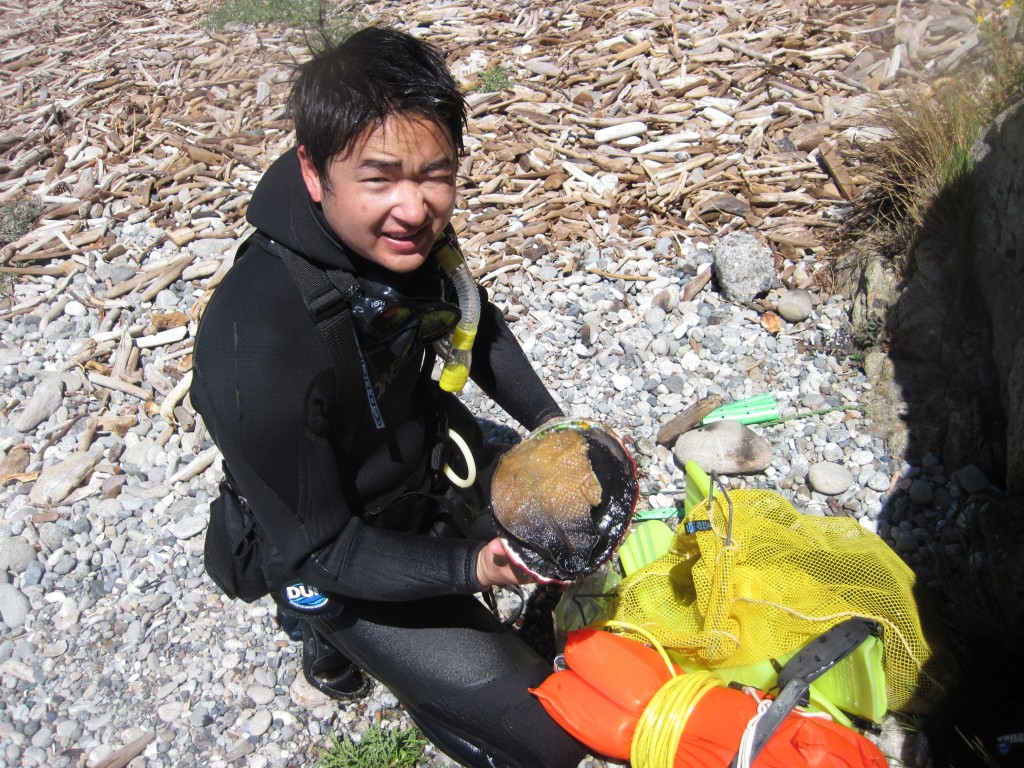 Unfortunately, Heather didn't bring her abalone card with her, but luckily for us, this meant that she could play around with Mika's new Canon Powershot D10, which is rated to go down to 10m.
I don't have any pictures of our campsite, but you'll have to take my word for it when I tell you that it's worth getting out there in the off-season. The sites are well-maintained, there seems to be a lot of areas to go hiking, diving and fishing, and if you pick the right site, you can end your dive with a nice hot shower!